Since Webseecon was designed for a very specific purpose (To create great-looking icons for your Internet shortcuts), its interface is very user-friendly and simple to use.
To have Webseecon automatically find all of your Internet shortcuts (Recommended for first-time users), just click the "Start" button - that's it! Webseecon will seek out your shortcuts, and automatically create custom icons for each one. You'll be able to view the progress, and see which website is currently being fetched - all within the same simple window.
For advanced users, Webseecon has options to allow fine-tuning, save activity logs, and more.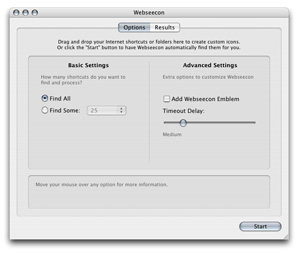 Next : Looks Great, Functional Too!