Not only does Webseecon make your Macintosh look very cool; it's also extremely helpful as well! Without Webseecon, you're stuck with the generic icon for every Internet shortcut on your computer.
This not only makes it hard to tell them apart, but it hinders your productivity by forcing you to load up each shortcut to see which website it refers to.
Webseecon eliminates this problem by automatically creating a customized icon that resembles the exact webpage each Internet shortcut refers to! You're able to quickly recognize the website you want, and go to it instantly - no more trial-and-error! Besides giving you a productivity boost, Webseecon just looks cool...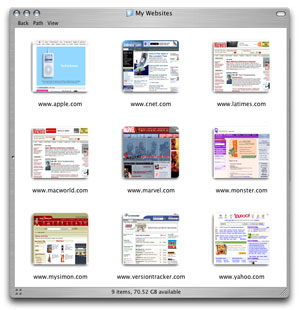 Next : Made For Mac OS X