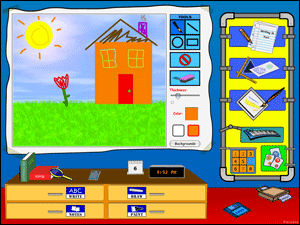 Kidwidget includes an easy-to-use Painting tool. Children can quickly create masterpieces from scratch, or start with one of our included background pictures. An almost unlimited number of colors and options make this feature one of the most popular in Kidwidget.
Draw & Paint...What's The Difference?
Kidwidget's Drawing and Painting sections may seem similar at first, but there's a major difference that separates them. Think of the Drawing section as a tool for making designs using shapes cut out of paper. These shapes can be moved around, reshaped, and then moved around again - all layered on top of each other. You can even resize the shapes you made.
On the other hand, the Painting section is more like an actual painting canvas. You can use different brushes to draw on the paint canvas, as the shapes mix together to create smooth paintings. Painting mimics the characteristics of pencil and paper - you can always use the eraser, but there's no way to change individual shapes, it's all considered to be one single masterpiece of ink.