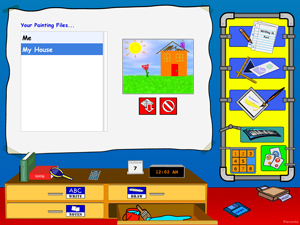 Kidwidget is safe for your kids. Safety was our #1 priority when creating this software - to create a very safe and secure environment for children, while giving them tons of cool tools to work with. A normal software program (Not Kidwidget) can be closed by anyone; quit at anytime. This is obviously a major concern for parents that wish to keep their children safe from other files, programs, and the Internet. Kidwidget breaks this barrier by preventing your children from quitting our software, which ensures that they're virtually "locked" into the safe environment provided by Kidwidget. We would again like to point out that Kidwidget is a VERY secure software program, with all access being controlled by you, the parent...
Parent Settings
As the parent, you are in complete control of Kidwidget's security settings. The first time you start this software, you'll be asked to create your own personal "Parent Password", which is your own unique key that allows access to Kidwidget's parent settings. Anytime Kidwidget is running, you have access to your personal parent settings - just enter your parent password, and you can customize almost every aspect of the program to fit with your family.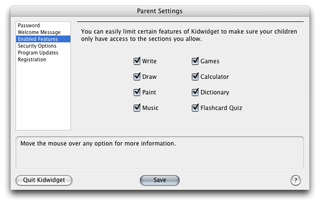 What Can Parents Customize?
Tons of things! We realize that every family has different values, age-restrictions, and other ways of letting their children view information. Kidwidget is very flexible, and can be setup to fit into almost any situation you can think of. Easily turn off specific features such as...just the "Games". This would allow your child to use any part of Kidwidget, except for the games. As you can see, the possibilities are fairly endless, and will grow with your needs as your child gets older.
This is especially handy when your children need to focus on a project such as a book report. In this example, we would probably want to disable everything except for the "Writing" section, and possibly the "Dictionary". The Parent Settings are very easy and straightforward to use, but just in case - we have a full instruction manual available.
Can't Children Just Quit Kidwidget?
No. Just as Kidwidget requires your personal "Parent Password" to gain access to its parent settings, your password is also required to quit the software. This means that your children cannot quit Kidwidget until you (The parent) allow them to. There's even an option to have Kidwidget open automatically when your computer starts, so even if your child unplugs your computer, when it starts - Kidwidget will be waiting.

Resilient Kid Note: Just in case you're wondering, Kidwidget uses very low-level programming techniques that directly disable our software from being quit, force-quit, or process-switched.
What does that mean? Kidwidget is secure.
Your personal Parent Password ensures fast and easy access to your own customizable parent settings, while keeping your kids safe. All of this in a single, secure, and kid-friendly environment.
*Windows Users: The above safety features may not work on all Windows computers. This is due to limitations of the Windows® Operating System. All safety features will work on the Macintosh.