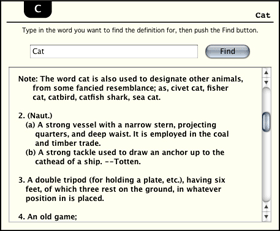 Kidwidget has a built-in, fully interactive dictionary to help your children find the definition of words. Just type in any word, press the "Find" button, and you'll see every definition of that word...cool! If needed, you can also disable this section in your parent settings.
Filtered Definitions = Safe


To be extra-safe, our dictionary is filtered, and won't allow your children to lookup inappropriate words or bad language. If a known bad word is entered, a message will be shown, and the definition will not be displayed.
* Kidwidget's Dictionary requires an Internet connection.